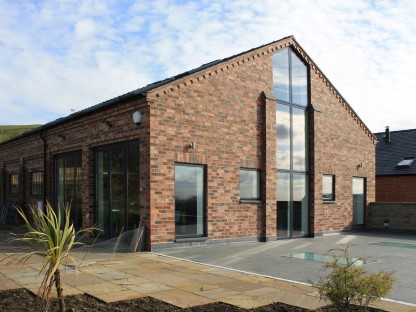 Rough Hey
The barn sits on a steeply sloping site overlooking the Cheshire plain.  The proposals took advantage of the slope in planning and in optimising the views at the front dwelling.
The clients purchased the site with planning permission for the conversion to residential comprising two detached single storey dwellings with three bedrooms each.
The proposals included the retention of the double storey link which enabled us to raise roofs over the dwellings and introduce a second floor.
An existing tractor shed provided the footprint for the new double garage, which formed the basement and entrance to the house.
Within the house, a large double height open living area takes advantage of the view at the front of the house, while more intimate spaces are contained in rooms at the back.  There are three bedrooms on the first floor.  Bathrooms and utility rooms are located against the party wall.
Space heating and hot water is provided by ground source heat pump; there is a wind turbine on site.