BLOG: Focus on Building a New Home
Hayes & Partners explores the opportunities, considerations and rewards of building your own home.
Many people dream of building their own home.  It could be to create something that fits with their needs and perhaps a long-held ambition.  Unfortunately, many are often daunted by the prospect and never take the plunge.  However, with the right architectural guidance, a little patience and perseverance, and even a relatively modest budget, the dream can become a wonderful reality.
Building your own home gives you the opportunity to create something that is completely bespoke.  Every aspect of the design can be considered and used to reflect your personal style and tastes.  The layout of rooms will be tailored to suit your family's routine, and you can incorporate elements – such as a cinema room, home office, attached stables – that perfectly fit your lifestyle.
In the longer-term, if you choose to move on after a few years, you'll likely find that over the same time period the increase in value of a new home is greater than that of an older property.
We also find that sustainability is often high on the agenda when we are asked to design a new home.  Building from scratch enables renewables and new technologies to be incorporated into the building, in order to achieve a high level of thermal performance.  Over the lifespan of a family home the potential savings in energy costs from a new build vs an older home are staggering, particularly for larger-scale projects.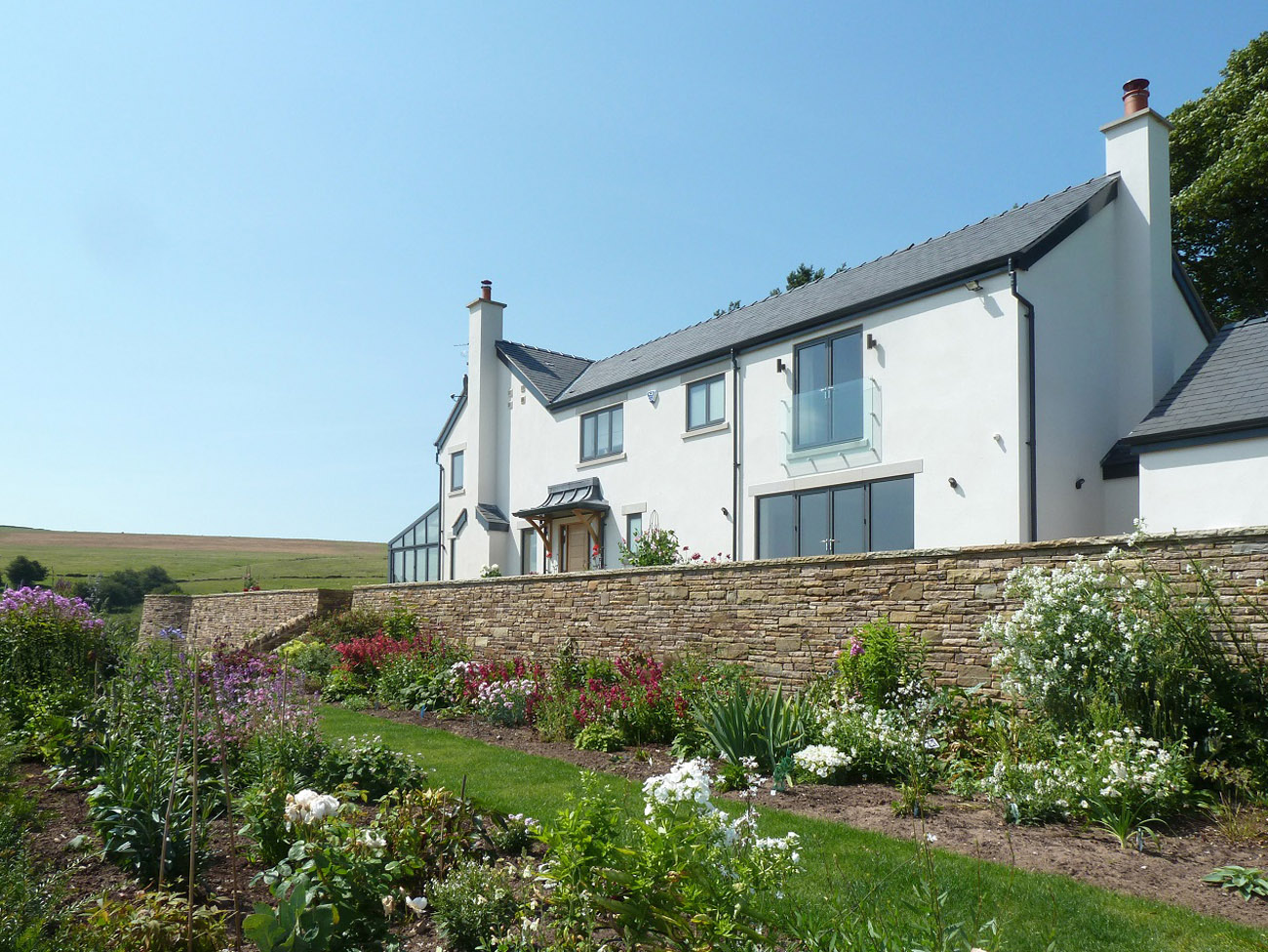 Building on an empty plot
Here's where a little perseverance is required; finding the perfect empty plot can take months, or even years. There are a number of established websites that advertise development land for sale, as well as popular self-build magazines and publications.  To make the task easier, consider building a relationship with a good Cheshire estate agent who will give you access plots as soon as they become available.
Some land is sold with planning permission already attached.  You will of course pay a premium for this, however it will give you peace of mind to know what size and style of property is allowed on the site, and can change it by re-applying for planning later.
Replacement Dwellings
If you have your heart set on a particular area or village but there is no land available you may consider buying an existing house and demolishing it, ready to build a new home in its place.  This is a common practice, and as with empty plots, you'll find a lot of properties are sold with planning permission to do exactly this.  If your plot is suitable, you may even consider demolishing your current home and use the land you already own.
While this idea may seem extravagant, it's important to note that the construction costs of new homes do not incur VAT, whereas extensions and refurbishments are charged at 20%.  This is a serious consideration and often the deciding factor for many of our clients.
Infill Dwellings
If your current home sits on a substantial plot, it may lend itself to some additional development.  This is subject to planning policy for the area?  For example, a new 'infill' dwelling may be built on the gap of land to the side of an existing property.  These gaps are conspicuous in what would otherwise be a consistent built-up frontage or line of houses.  Infill dwellings of course bring financial advantages; you get to retain and then either sell or let-out your existing house, whilst living in a beautiful new home just next-door.
Hayes & Partners creates award winning new homes in Cheshire.  If you are considering starting the journey to building your own home Hayes & Partners are able to help with each step; we offer a free-of-charge initial consultation to help you get an idea of what might be possible.  From there on our services are broad; from initial design, to planning permission applications and obtaining building regulations approval, through to tendering work to contractors and project management.  Our many commissions from recommendation and referral prove Hayes & Partners wealth of knowledge and experience provides clients with a rewarding, stress-free and positive experience