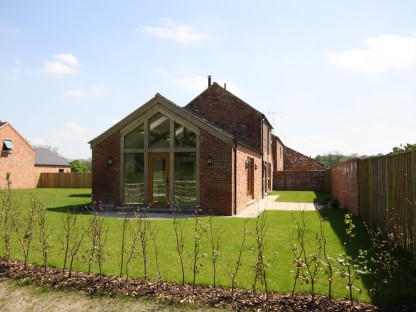 Hillmoor Farm
Conversion of barns into 4 new dwellings
Originally, planning consent was granted for permission to convert the smallest barn on the site to a dwelling.  During the Cheshire East moratorium on new dwellings, Hayes & Partners gained consent to transfer the planning consent from the small barn to a larger barn on the same site.  The large barn would then be converted to a seven bedroom home and the small barn demolished.
When Rough Hey Ltd bought the site Hayes & Partners were asked to, and subsequently achieved, planning consent to convert the large barn into three dwellings and retain the small barn for a fourth.
During initial site investigations it was discovered that a protected species, brown long-eared bats, were present in the large barn.  In order for the development to go ahead the bats needed to be re-homed.  After successful negotiation with the local authority, Hayes & Partners achieved permission to replace an old stable on the site with a brick garage block (to serve the new dwellings), which contains a new purpose-built bat loft over the central section.
The project was completed in 2014.  The four dwellings are heated by a communal bio-mass unit to meet the requirements of Eco-Homes Excellent standard (equivalent CSH Code 4).