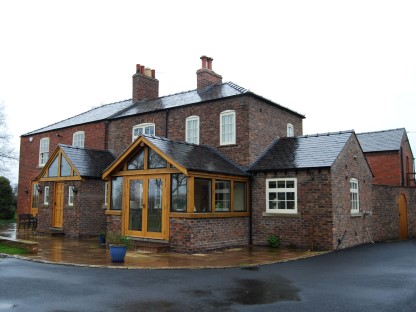 Greenbank Farm
Alterations and Extensions, New Garage
The clients of Greenbank Farm approached us in early 2005, having recently purchased the 19th century property.  The layout of the existing farmhouse was inconvenient and the interior and services outdated.  Vehicular access was also a problem, with little space to turn and no secure parking.
The solution was to extend and reconfigure the existing farmhouse, creating a more suitable living space for the client's family.  Part of the extension included a new master suite with bathroom & dressing room and an oak-framed garden room.   A new heating and plumbing system was installed and traditional features such Victorian tiles and a wood-burning stove.
Adjacent to the farmhouse a new double garage was built with a gym and office space above.  The entrance was moved to the South West of the garden (and new gates installed), creating a sweeping driveway and more dramatic approach.